Heartlight Ceremonies 
Jan de Ville, Officiant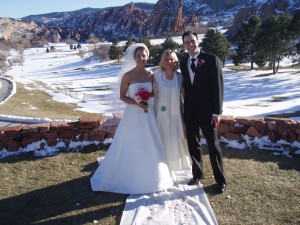 Getting married is one of the most significant events in your life, thus it is important to have an officiant who understands your needs.
As the owner of Heartlight Ceremonies, I am an ordained non-denominational minister who performs traditional and non-traditional wedding ceremonies, customized to best reflect and honor your relationship, beliefs and interests.
To each ceremony, I bring high quality, heart-felt connection and sensitivity to each couple's expressions of commitment. Please accept my invitation to create with you a memorable and loving wedding service for you and your guests.
I have been officiating weddings in Colorado since 1996.
Officiant Fee includes:
Ceremony planning customized to your specific needs (two meetings), wedding booklet of, your service, rehearsal, and ceremony performed at your location.
Please contact me for additional information and my fees.